Our dedicated legal team at Martin Attorneys is excited to announce that we have entered the 2020 Best of Northwest Arkansas Awards presented by Basset Home Furnishings of Fayetteville. Martin Attorneys is featured in the categories for Best Law Firm, Best Bankruptcy Law, Best Estate law, Best Family Law, and Best Personal Injury Law.
As some of you may remember, last year we did the Best of the Best of NWA and won! We have entered again this year and kindly ask that you submit your vote for our law firm in the categories listed above. Voting for Best of the Best of NWA will remain open from November 30th through December 17th.
Individuals can submit a vote 3x per day for each award nominee. One vote can be submitted using an Internet Explorer browser, a second vote using a Google browser, and a third via telephone. Voting has now started and voters can vote every day.
To submit your vote for the 2020 Best of Northwest Arkansas Awards, please click here: http://votebestnwa.com/martinattorneys.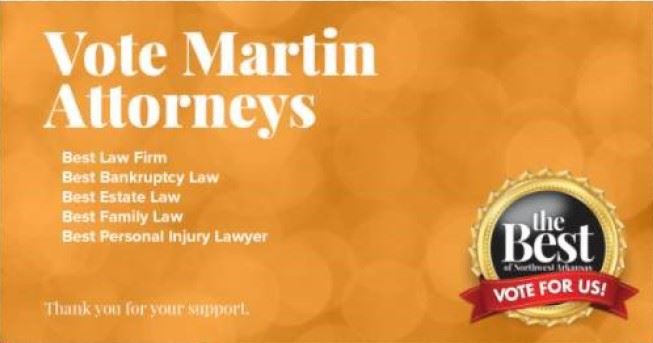 Compassionate & Reputable Legal Representatives
Martin Attorneys has been helping clients throughout North West Arkansas pursue their legal goals for more than 30 years. Clients who choose our firm to assist with their legal matters know they are not alone because they have a team of top-notch attorneys in their corner that will vigorously advocate for their best interests both inside and outside the courtroom. We are familiar with the stress and worry that go along with a wide range of legal issues, which is why we are here to help clients devise strong strategies for their unique situations.
To learn more about our legal team and the services we offer at Martin Attorneys, please call us today at (479) 888-2039 to request your free first visit.